There is an everlasting debate on the importance of age when hiring in China, a debate which, since COVID19, has gained importance. Future executives of the new generation are victims of social distance work, contact through a screen and their formative years, post-diploma, being affected by the world coming to a halt.
The generation an executive belongs to can have an effect on how they lead a team, the way they build relationships in the workplace and the way they create a safe and effective work environment. Reflecting upon the phenomenon of ageism after COVID specifically in China, the global phenomenon can go both ways, older executives esteem the younger candidates to be lazy, too sensitive and lack routine. Zeng Xiangquan, head of the China Institute for Employment Research in Beijing stated that these lowered expectations have "damaged the utilisation of the young labor force,". The question is, how has this been accentuated by COVID? Executive search relies on persistence, younger people have been told they lack the motivation, and can be considered unfit for the role especially after being kept inside during the most important years of their lives pre- career. On the other hand, after a rise in reliance on technology brought by the pandemic, "Generation Z" are equally up and coming in a world in which technology such as AI is the future. This therefore means they consider older executives to not be capable of understanding the products being sold, or to be too traditional in several fields such as leadership and even in their customer relationship management.
In China, this subject has been discussed a lot but in particular when speaking of executive search in the sector of technology, "Let some older members of management retire from their positions," Tencent Holdings President Martin Lau said. "Their jobs will be taken up by younger people, new colleagues who may be more passionate." It is argued that, when properly motivated by a world they understand, such as the sector of technology, they are better, and more "passionate" for the 996 system in China, where you start at 9 am and finish at 9pm everyday, 6 days a week.
The IBM Institute for Business Value (IBV) Trending Insights reports that there was a shift amongst CEOs in China as few executives prioritised "competencies in crisis management, enterprise agility, cost management, workforce resiliency, innovation, or cash-flow"management as vital to the company. Nowadays, after COVID, executive search must have a different way of filtering for their clients in the same ways executives themselves must shift their way of handling their business, thinking more towards the human factor than they used to. Moreover, IBV also noted that more than 75% of executives in China are waiting for changed customer behaviour to remain post COVID-19, exchanging face-to-face contact for online interactions. As a consequence of this, 89% of executives in China state that customer experience management will gain importance over the next two years, as opposed to only 35% before COVID.
The importance of customer experience management stated by executives in China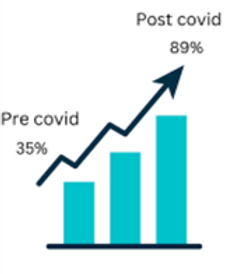 The effects of the pandemic on executive search have made it clear that there needs to be a restructuring of the traditional system as society leans more toward a future in AI. Younger generations are entering the business world with a different vision and training than those before them, which has been accentuated by the pandemic. This has not only had a detrimental effect on ageism claims within China's executive world but created a fear that the next generation of CEOs may not be up to the task. This new obstacle needs not only a new take on executive search but equally a team that knows the ins and outs of the up and coming challenges of organisational alignment, helping with leadership development, tackling management assessment, CEO & Board advisory and outlining talent mapping post-pandemic, these fields are what Zavala Civitas prioritise in the services they offer.